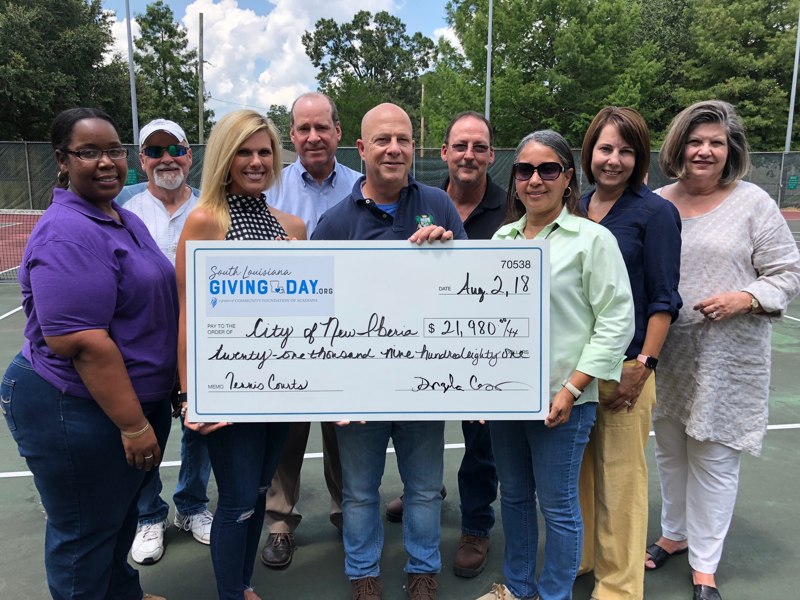 New Iberia, LA – Angela Cestia and Jessica Ditch with the New Iberia Parks and Recreation Fund raised more than $20,000 through South Louisiana Giving Day to renovate the tennis courts at New Iberia City Park.
"We saw the need," said Ditch. "Children were outside playing on the courts and we felt they could use a resurfacing."
On Thursday, Cestia and Ditch presented the check to City of New Iberia Mayor Freddie Decourt. The privately donated funds will be used to pay for the renovation project. Decourt said the renovations will take six to eight weeks to complete.
"The plan is to get our courts used and our parks better utilized," said Decourt. "This is one of many steps we're taking to do that."
The mission of the New Iberia Parks and Recreation Fund, a fund of Community Foundation of Acadiana, is to revitalize the parks in New Iberia and improve the quality of life for the citizens of our community. The fund is registered and managed under the Iberia On Tap organization.
South Louisiana Giving Day, an event of CFA, is a 24-hour online fundraiser for nonprofit organizations, churches and schools.
Community Foundation of Acadiana's core purpose is to build legacies and improve communities by connecting generous people to the causes they care about. CFA is one of south Louisiana's premier philanthropic organization benefiting our region, with a particular focus on the parishes of Acadia, Evangeline, Iberia, Lafayette, St. Landry, St. Mary, St. Martin and Vermilion. CFA has realized cumulative gifts exceeding $229 million and has made cumulative grants of more than $120 million. Learn more at www.cfacadiana.org.
Photo: Back row, L-R: Pat Thibodeaux, Parks and Recreation Department; Sid DeRouen, Iberia Parish Foundation board of director; John Robichaux, Parks and Recreation Department assistant superintendent; Angela Cestia, fundraising coordinator; Beverly Shea, Iberia Parish Foundation board of director
Front row, L-R: Krystal Boyance, City of New Iberia program coordinator; Jessica Ditch, fundraising coordinator; Mayor Freddie Decourt; Heather Dominique, Parks and Recreation Department superintendent