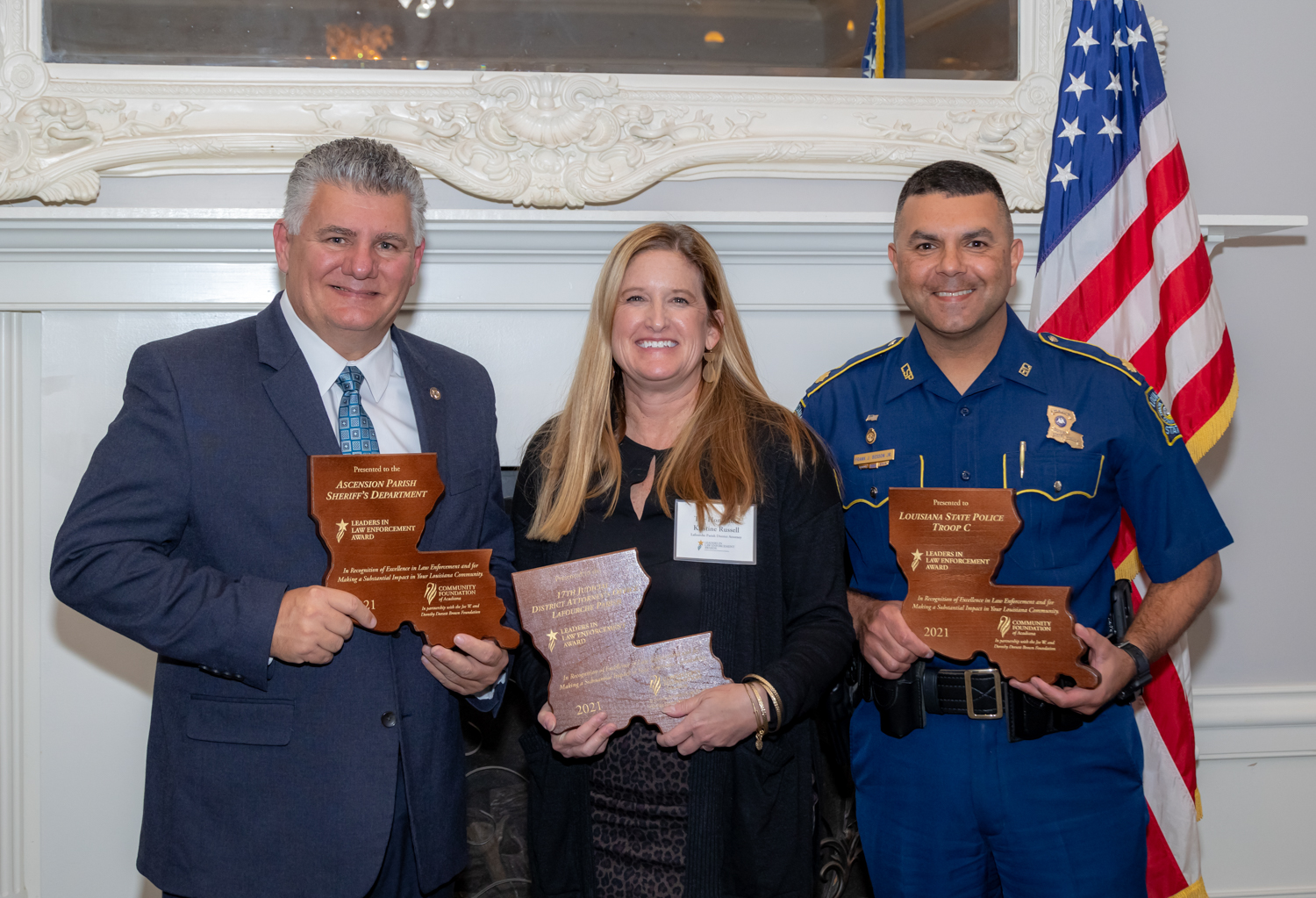 Lafayette, LA, November 30, 2021 – Community Foundation of Acadiana (CFA) celebrated its second annual Leaders in Law Enforcement Awards on Thurs., Nov. 30, 2021, at City Club in River Ranch. The 2021 honorees are the Ascension Parish Sheriff's Department, the 17th Judicial District Attorney's Office of Lafourche Parish, and Louisiana State Police Troop C.
The intent of these awards is to bolster morale, increase respect for public service, acknowledge improvements in operations and encourage extraordinary performance among Louisiana's sheriff's departments, district attorney's offices and Louisiana State Police. These awards are designed to honor those departments who are making the most impact in their communities with the resources they have been allocated. Each department received a $25,000 award to be used at their discretion to improve operations and continue to encourage extraordinary performance and implement meaningful programs. This year's awards were underwritten by the Joe W. and Dorothy Dorsett Brown Foundation.
The Ascension Parish Sheriff's Office is recognized for successfully creating a safe space and fun atmosphere where deputies can interact daily with kids in the community. In 2017, the Ascension Parish Sheriff's Office opened the Hickley M. Waguespack Center and Park, a one-of-a-kind community center which is strictly serviced and maintained by the Ascension Parish Sheriff's Office. This community center and park provides an outlet for children and residents of Donaldsonville and West Ascension to interact with deputies in a positive way. The sheriff's office built this facility due to the increasing number of incidents of violent crime in the area over the past several years. Since opening, crime in the area has significantly decreased, and children, as well as adults, now have a safe space to play, do homework, and interact with a deputy in a positive way.
The 17th Judicial District Attorney's Office of Lafourche Parish is recognized for its RESPECT U Program which was launched in 2018. RESPECT U was established after studying the underlying causes of habitual criminal activity. The reoccurring theme among the defendants was a severe lack of proper respect. RESPECT U is an umbrella program incorporated into existing school programs that focuses on self-respect, respect for others, and respect for the community at large. Community support was garnered through the distribution of yard signs and stickers, a promotional video including local students, campaigns via press releases, social media, and engaging community stakeholders. A few of the age-specific programs include Introduction to Respect which begins in 4th grade, PEP Talk which is a gender-specific program for middle schoolers focusing on self-esteem for girls and conflict resolution for boys, and Domino Effect and Wobble Goggles for high schoolers which focuses on the dangers of distracted and impaired driving.
Louisiana State Police Troop C is recognized for a myriad of developments and partnerships implemented in their region which have drastically improved road safety and reduced the accidental death rate. Troop C developed the TrafficStat Program to reduce automobile crashes, thus reducing injuries and fatalities. With research, Troop C was able to focus enforcement efforts in the areas, days, and times crashes were happening by targeting specific violations. TrafficStat was so successful that it was written into State Police Policy for every Troop to utilize. "Zero for the Holidays", one of TrafficStat's Programs, partners with local law enforcement agencies, DA's Offices, and media outlets to bring awareness to safe and sober driving during the holiday season. Through a partnership with the South Central Regional Safety Coalition, Troop C was able to design, build and maintain a mobile Breath Alcohol Testing Bus making them the only troop in the state to have such a bus. Troop C has also launched enforcement and awareness campaigns which have brought positive results. "Specialized Enforcement Details" targets areas and violations common to crashes resulting in an average of 1,735 citations per year. This combined with an awareness campaign that includes presentations in schools, businesses, and professional organizations has resulted in a 40% increase in DWI arrests and seatbelt citations and a 37% reduction in deaths.
Community Foundation of Acadiana is honored to present these law enforcement awards to such deserving programs. The 2022 application process will begin in January and run through March. All sheriff's departments, district attorney's offices, and Louisiana State Police troops and sections from around the state are invited and encouraged to apply. Applications can be found by visiting www.cfacadiana.org/leadersinlaw.