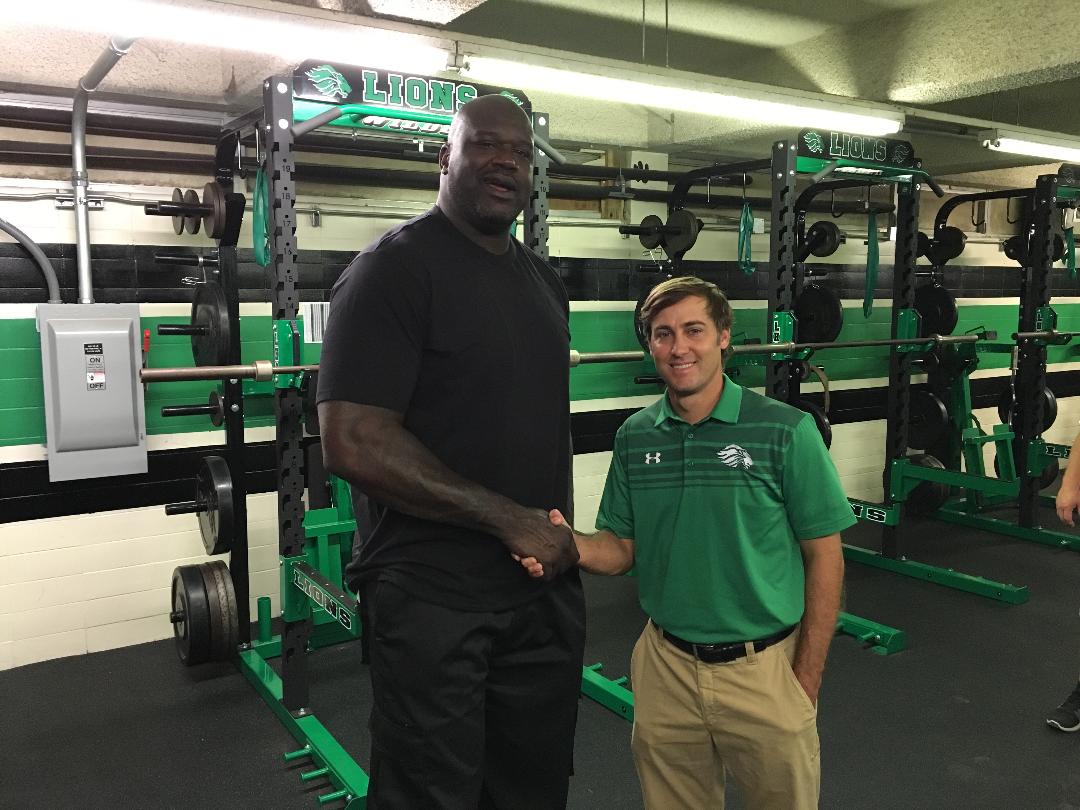 O'Neal funded partially the new weight room equipment
Lafayette, LA – Shaquille "Shaq" O'Neal toured the newly renovated weight room at Lafayette High School (LHS) on Friday. In May, O'Neal made a $20,000 through South Louisiana Giving Day, an event of Community Foundation of Acadiana.
"The new equipment is now all on one rack," said Rob Poole, the head football coach of Lafayette High School. "It's a workout station where you can do power clean, bench press, squat and deadlift in one space. This equipment will improve our coaching technique."
Poole approached the Lafayette Parish School System (LPSS) and requested funding for the equipment. LPSS agreed to grant $21,000 to LHS. The total cost to renovate the weight room with new equipment was $42,000.
In January, Poole registered to participate in SOLA Giving Day. Through his fundraising efforts, Poole received a message from Shaquille "Shaq" O'Neal, a retired NBA basketball player and former LSU athlete. O'Neal gave a generous donation of $20,000.
"It shows what kind of guy he is," said Poole. "He's selfless, and he's about kids. They are the ones who's going to benefit."
O'Neal sent Poole a video. "Hello mighty Lion boosters of Lafayette, "O'Neal said. "I wanna wish you well with your fundraiser, but I may have a surprise for you. I'll let you know. All you Lafayette High guys, students, work hard. You can be whatever you want to be. Alright. I'll talk to you soon. Bye, bye." The video can be found online at www.SouthLouisianaGivingDay.org/LafayetteHighSchool.
Contributions from other donors helped Poole fully fund his project. The cost of the project is $42,000.
South Louisiana Giving Day is a 24-hour online, fundraising event for nonprofit organizations. The goal is to inspire the community to come together for a 24-hour period to contribute as many charitable dollars as possible to support the work of local nonprofit organizations, churches and schools. Learn more at www.SOLAGivingDay.org.