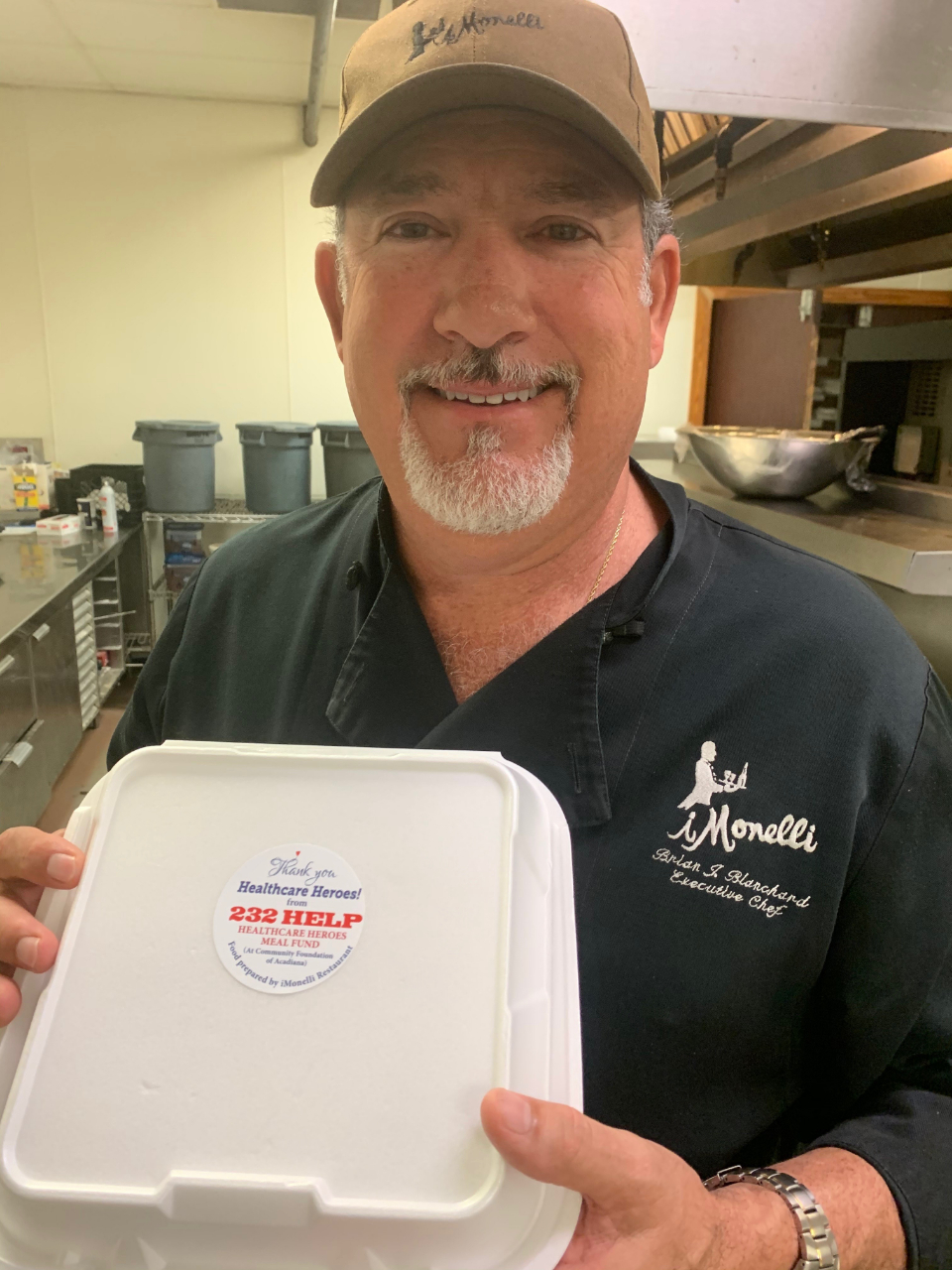 232-HELP, the well-known Acadiana nonprofit organization, established the 232-HELP Meals for Healthcare Workers Fund at Community Foundation of Acadiana (CFA) with significant initial funding from the Jewell Parkerson Lowe Foundation.
Donations to the 232-HELP Meals for Healthcare Workers Fund will provide freshly cooked meals to emergency room and critical care medical teams at several Lafayette-based hospitals.
"Over the next seven weeks, we will work with Imonelli Restaurant to deliver 10,000 or more boxed meals to the emergency room and critical care workers who are truly heroes during this COVID 19 pandemic," said Jim Pate, the president of 232-HELP.
Donations from the fund began feeding workers at Lafayette General, University Hospital, and Our Lady of Lourdes. More donations are needed to expand the feeding program to cover additional hospitals.
"Our goal is to provide meals to ER and critical care workers five days a week through May 28," said Roy. "For every new $9,000 contribution to the fund, we are given the capacity to deliver another 1000 meal in coming weeks."
"Our 232-HELP organization has been a pillar in our community for decades," said Raymond Hebert, the president and CEO of CFA. "We are honored to participate in such a noble endeavor."
You can make a tax-deductible donation to the 232-HELP Meals for Healthcare Workers Fund by visiting www.cfacadiana.org/232help Checks can be mailed to CFA, memo: 232-HELP Fund, 1035 Camellia Boulevard, Suite 100, Lafayette, LA 70508.
You can transfer a donation from your Donor Advised Fund at CFA or elsewhere. To initiate your transfer, please call Katie Lahey at 337.769.4844 or klahey@cfacadiana.org.
Due to the generosity and support of CFA members, 100% of all contributions will benefit the 232-HELP HEALTHCARE HEROES MEAL FUND.
232-HELP is a nonprofit, single destination agency providing information, education, and referral services to the people of Acadiana. Guidance and direct services that address a caller's needs are rendered as required. The organization exists to help those in crisis return to being healthy and productive members of the community. 232-HELP empowers and strengthens individuals and families by connecting those in need with community and society. 232-HELP is a Louisiana 211 partner. During the COVID-19 pandemic, 232-HELP has already handled in more than 10,000 calls directly relating to this crisis.
For more information about the 232-HELP Meals for Healthcare Workers Fund and meal project, please contact Jim Roy, the 232-Help chairman of the board, at jimr@wrightroy.com or call him at 337-278-7892.
CFA is one of south Louisiana's premier philanthropic organization benefiting our region, with a particular focus on the parishes of Acadia, Evangeline, Iberia, Lafayette, St. Landry, St. Mary, St. Martin and Vermilion. CFA is a nonprofit grant-making organization that is dedicated to building legacies and improving communities by connecting generous people to the causes they care about. CFA has realized cumulative gifts exceeding $281 million and has made cumulative grants of more than $144 million. Learn more at www.cfacadiana.org.