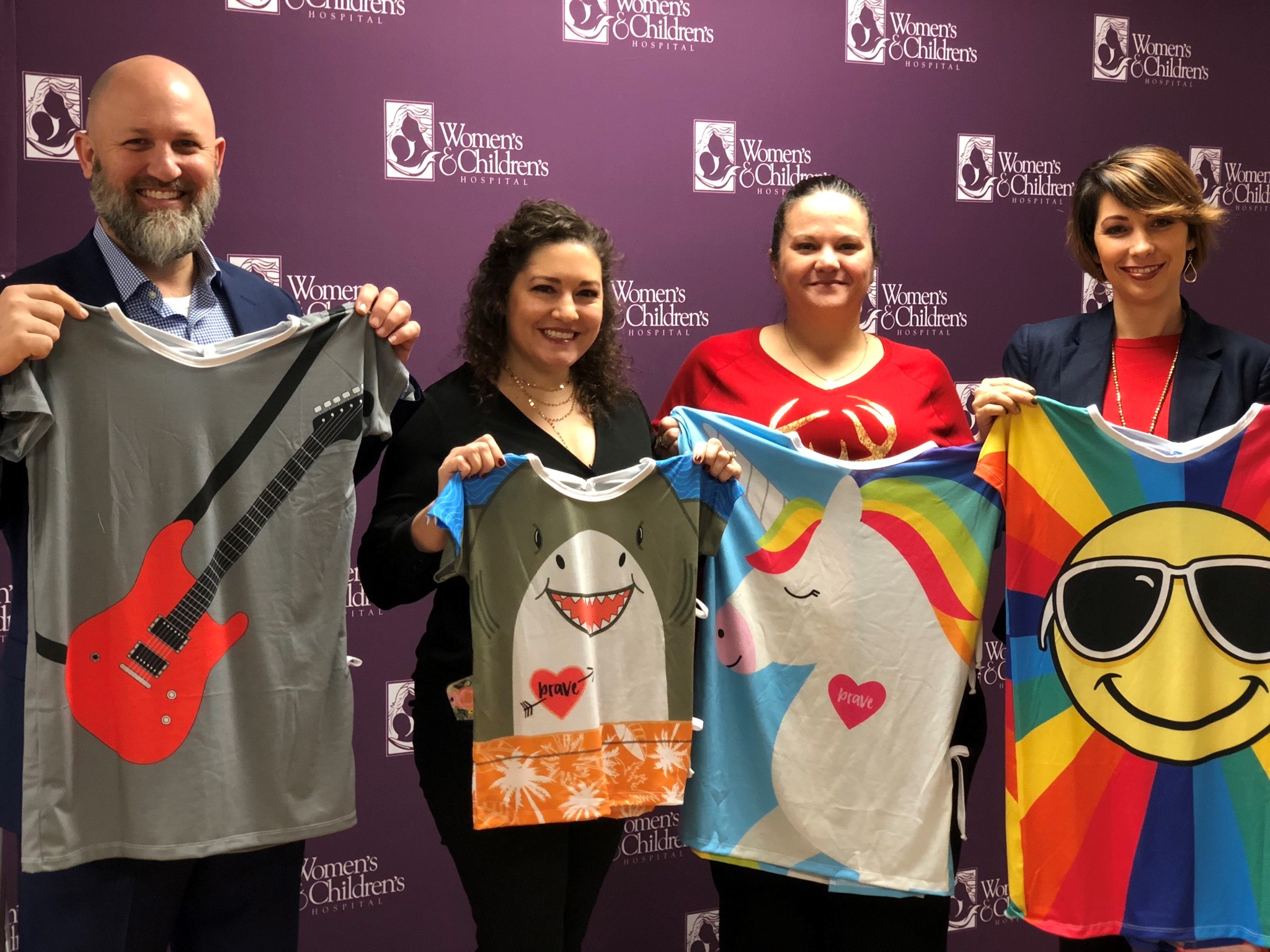 LAFAYETTE, La. – Acadiana Mall donated 240 Brave Gowns for the hospital's pediatric patients.
Brave Gowns are not your standard hospital gowns. They have have fun prints that cover the entire front. They are made of soft fabric that resembles a child's favorite superhero or character. They have IV access on both sleeves, access to chest ports and heart monitors, and a pocket for a favorite toy or candy. The gown has three panels for protection which allows the gowns to tie on the side. While the gowns are T-shirt-like soft, they meet all hospital standards and hold up to industrial washings.
Children have very limited control in their daily lives, especially when going through treatment for an illness. Becoming a superhero or a rock star will allow them to access some sense of power during this potentially scary time.
The Brave Gown initiative will make Women's & Children's the first hospital in Louisiana to have Brave Gowns available for pediatric patients.
"We're in the business of fashion, comfort and emotional connections. I think most people can agree that when you love what you're wearing, your spirit's a little brighter," said Jamie Stelly, marketing manager of Acadiana Mall. "Our goal is to bring smiles to lots of sweet little faces. We would like to encourage the community to keep the smiles going by supporting the Brave Gowns fund."
The community can help keep the Brave Gowns initiative going by donating to the Brave Gowns fund, part of the Kites Above Acadiana Kids Fund at the Community Foundation of Acadiana. Call 337-769-4843 or donate online at www.cfacdiana.org/kites.
"Brave Gowns are another valuable tool available to our team helping children heal from illness, injury and long-term conditions. They inject a little bit of fun, sunshine and comfort into the hospital environment, which can be scary for some children," said Leona Boullion, interim chief executive officer for Women's & Children's Hospital. "Words cannot express how much we appreciate the Acadiana Mall and Brave Gowns for this generous show of love and support for the patients and families we serve."
Acadiana Mall would like to recognize the following businesses for their partnership on this initiative: Women's & Children's Hospital, Acadiana Total Security, Integrated Health, Lafayette Veterinary Care Center, LARC's Acadian Village and Unitech Training Academy.
About Acadiana Mall Acadiana Mall is managed by Spinoso Real Estate Group, and features more than 100 great shops including Chico's, Talbot's, Torrid, J.Jill and many more. Anchored by Dillard's, Macy's and JCPenney, the mall is situated at the intersection of Johnston Street and Ambassador Caffery Parkway, approximately five miles south of Interstate 10. The mall was originally built in 1979 and renovated in 2013. Additional information can be found at ShopAcadianaMall.com
About Women's & Children's Hospital Founded in 1983, Women's & Children's Hospital continues its tradition of providing specialized healthcare services for women and children. Women's & Children's Hospital is one of the largest birthing hospitals in the state with an array of women's services including the Cancer & Infusion Center, robotic surgery, 3D mammography, breast-dedicated MRI, fertility, lactation support and urogynecology. The facility includes the kids E.R. – a Pediatric Emergency Department staffed 24/7 by Board-Certified Pediatricians, Acadiana's only Level III Regional Neonatal Intensive Care Unit, the region's only Pediatric Intensive Care Unit, a women and children-dedicated Sleep Center and various pediatric subspecialties.