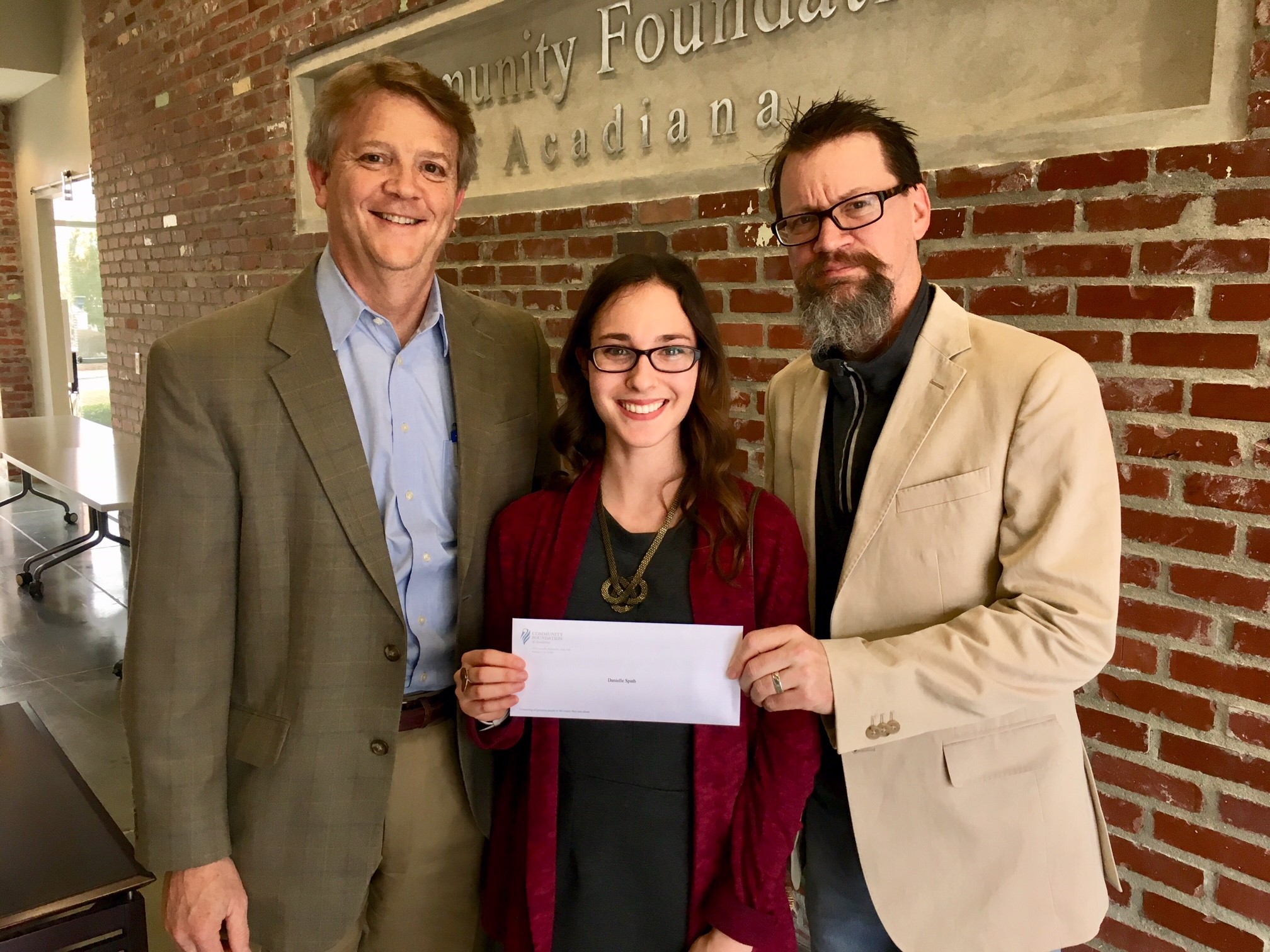 Lafayette, LA – Committee members of the Eloise Voorhies Gary Memorial Fund awarded a $500 scholarship to Danielle Renee Spath of Breaux Bridge.
"Art is a vital component of a young child's education because of its developmental benefits in motor skills, communication, critical thinking, and visual learning," said Spath. "Art education is important throughout schooling because no matter the student's age, art continues to strengthen necessary skills in creativity and critical thinking."
Spath is a senior art education major at the University of Louisiana at Lafayette, and she has received numerous recognitions and awards for her artwork. She is a volunteer with the Paul and Lulu Hilliard University Art Museum, and a member of the National Art Education Association and Louisiana Art Education Association. Spath is president of the ULL chapter of Louisiana Art Education Student Association. She is a member of the National Society for Success and Leadership and a member of Kappa Delta sorority where she serves on the Girl Scout committee.
Danielle has been a true role model within the Art Education program and is highly thought of and respected by both faculty and peers within the Department of Visual Arts, the College of the Arts, and the College of Education at the University of Louisiana at Lafayette, "said Brian Kelly, professor of Printmaking at ULL. "Danielle is one of those rare students that all educators hope to have during their careers – hard working, responsible, and enthusiastic. She is committed to her community and truly believes that a teacher plays an important role in the life of nurturing of a child. Daniel is a further educator who is distended to make a difference."
Eloise Voorhies Gary Memorial Award Fund, a fund of Community Foundation of Acadiana, was established by Gary's daughter, Lynn Gary. The scholarship is given to a junior or senior pursuing an art education degree at any Louisiana college or university who meets criteria as specified in the scholarship application.
"My mother delighted in bringing art into the lives of children and in having them express themselves through art," said Gary. "Art education was her passion and her gift to so many."
Eloise Voorhies Gary (January 18, 1912 – February 27, 2003) was well known as an accomplished artist and inspiring educator; her teaching career culminated in her service as Supervisor for Art in the St. Martin Parish School System. In that role, she produced a handbook for classroom teachers titled "Art: Involvement".