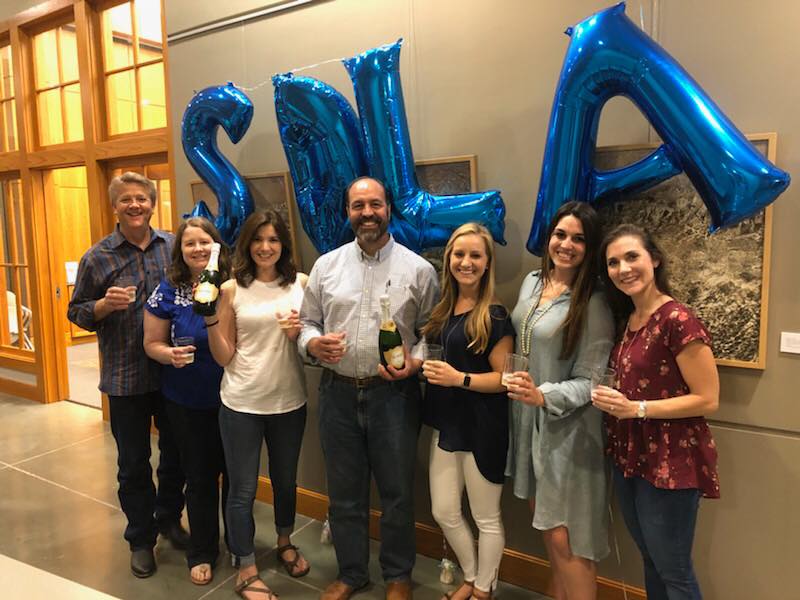 South Louisiana Giving Day Raises $1,095,013 in Charitable Donations to Support More than 130 Acadiana Organizations
South Louisiana Giving Day's inaugural event was held on Thursday, May 10
LAFAYETTE, LA - South Louisiana (SOLA) Giving Day, an event of Community Foundation of Acadiana (CFA), raised $1,095,013 in charitable donations during its inaugural event to support more than 130 Acadiana nonprofit organizations, churches and schools who serve Acadiana.
SOLA Giving Day was held on Thursday, May 10. It began at midnight and ended at 11:59:59 p.m. CST. For a 24-hour period, the Acadiana community was asked to contribute charitable dollars to 134 participating organizations by visiting www.SouthLouisianaGivingDay.org. SOLA Giving Day began accepting donations during its scheduled donation period on March 12 through May 9.
"CFA is excited about the generous response to its first South Louisiana Giving Day," said Raymond Hebert, CEO and President of Community Foundation of Acadiana. "This event aligns perfectly with our core purpose to build legacies and improve communities by connecting generous people to the causes they care about. We are proud of the structure we offered to allow generous benefactors a unique opportunity to benefit their favorite nonprofits, churches, and schools. We already anticipate a bigger and better event in 2019."
More than 30 generous donors secured $534,000 in matching donations to support 38 participating organizations. A list can be found at www.SouthLouisianaGivingDay.org/matching.
Bridge Ministry of Acadiana, The Church Academy raised $142,296 during the event. It secured the most donations among all participating organizations. The Church Academy will use the contributions to support its facility, afterschool care and scholarship needs.
The success of Bridge Ministry of Acadiana, The Church Academy was driven by the generosity of a matching donation sponsored by William C. Schumacher Family Foundation. A matching donation is a charitable donation by private donors that will match the general public's donations dollar for dollar.
"This matching donation opportunity offers children in our community the access to education they deserve, and it is in support of our foundation's Mission," said Dr. William Schumacher, founder of the William C. Schumacher Family Foundation. "The Church Academy is clearly investing in the future of our youth in a meaningful way, and so we proudly support this school and humbly request the community's consideration of this matching grant opportunity."
St. Pius Elementary School Monsignor Richard von Phul Mouton Scholarship Fund was another top performer and raised $113,205. As an effort to jump start its success, Richard and Elaine Zuschlag Family Fund sponsored a $50,000 matching donation.
Other top performers were Moncus Park who raised $68,992. Ragin' Cajun Catholics received $63,121 in donations. Boys and Girls Clubs of Acadiana collected $56,240. A list of the participating organizations can be seen at www.SouthLouisianaGivingDay.org/leaderboard.
SOLA Giving Day awarded $25,000 in prize grants to more than 20 participating organizations. The winners can be viewed at www.SouthLouisianaGivingDay.org/prizes.
The event is sponsored by Superior Energy Services and supported by Community Foundation of Acadiana Board of Directors and its affiliate foundations, Iberia Parish Foundation and St. Mary Parish Foundation.
The second annual South Louisiana Giving Day will be held on Thursday, May 9, 2019.   CFA is a tax-exempt, donor-centric, entrepreneurial foundation whose core purpose is building legacies and improving communities by connecting generous people to the causes they care about.  CFA has realized cumulative gifts exceeding $227.5 million and has made cumulative grants of more than $110.4 million.  Learn more at www.cfacadiana.org.